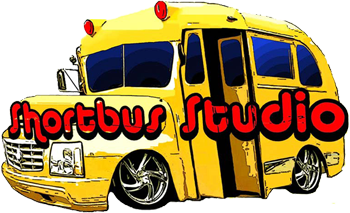 Shortbus Studio participants need a new wheelchair accessible bus. Specifically, a bus with a 12 passenger capacity and room for two wheelchairs plus a driver. Please consider making a contribution to our Indigogo campaign.
Upgrading to aluminum wheels would lower maintenance costs and reduce fuel consumption and greenhouse gas emissions. Installing a backup camera would allow the driver to see in places that mirrors cannot. Adding cargo nets would help keep riders safe by preventing outdoor gear, art equipment, or any other items from coming loose in the rear of the bus.
Also, foldaway seats would make each trip easier by providing multiple wheelchair/seating arrangements and allow more room for locking in wheelchairs. Safety is the biggest priority for Shortbus Studio, but the vehicles in use now are not safe due to years of wear and tear, high mileage, multiple breakdowns and unreliable wheelchair lifts.
A new wheelchair accessible bus costs $65,000. With your help Shortbus Studio can continue to be an inspiration and model for other organizations. They can continue exploring ways to use adventures, volunteering and the arts to build collaborations and everyday relationships with members of the community. With your help they can continue to educate the public on how individuals with disabilities are much more alike than different from them.